Too often African American hair is subjected to chemicals and extreme heat in an attempt to make it seem longer and smoother. But what this does is weaken and slow hair growth.
To grow your hair faster and longer the solutions are actually quite simple. A big part of growing black hair faster is knowing what products to use. Heres a full guide on how to grow African American hair faster.

Getting Started
For starters we highly recommend several supplements: Folexin and Coconut Oil.
Folexin is a popular and proven to work product made specifically to promote hair growth while also improving your hair's texture and structure making it thicker and stronger, so say goodbye to breakage.
No gimmicks, Folexin is clinically tested with over 25 years of research to back it up.
For more information, check out our product review of Folexin.
What are you waiting for? Check the price of Folexin!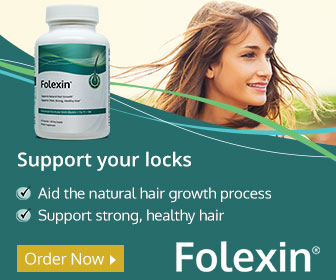 Coconut Oil
is a certified organic supplement that help improve the health and beauty of hair. It also comes with loads of other health benefits. For full details, read our post about
Coconut Oil
!
9 Steps To Grow African American Hair Faster.
Before you go off trying complicated tricks and methods to get your hair to grow quickly, try a few simple maintenance routines. Often, its the simple things you do everyday that make the biggest difference in the health and length of your hair. To grow African american hair faster follow these steps.
1. Use a pre-shampoo.
A pre-shampoo is a type of conditioning treatment that is applied on hair before using the actual shampoo. Its thick which allows it to form a coat over hair strands. The importance of this is protecting the hair from getting too dry and breaking.
It also forms a protective layer from the harsh ingredients of the shampoo. After scrubbing your hair with a shampoo, it will still feel soft and smooth.
You can make your own pre-shampoo at home using a protein-based conditioner and organic oil. However, it is much easier to buy a ready made treatment.
Make sure you closely follow the instructions on the label. Many women dont use a pre-shampoo but I think it's something everyone should be doing.
Recommended Pre-Shampoos.
2. Use the right shampoo.
Generally, African American hair is brittle and damages easily. Most shampoos on the market are brutal due to their harsh ingredients which is no good for any kind of hair, especially African American hair. You therefore need to be extra careful about which shampoo you are using.
"A rule of thumb is to stick to sulfate-free shampoos. Sulfates are known to make your hair frizzy and dry out. This is especially bad for African American hair which is already brittle enough. The extra harshness is something you should avoid at all cost." Recommended by the chief editor of Bestreviewslist.
Additionally, look for shampoos with organic oils. These oils are great at protecting hair from dryness and leave your strands feeling supple and soft. Some of the best oils to look for in shampoos include jojoba oil and argan oil. Make sure they are organic oils.
Recommended Shampoos.
You will notice that these shampoos have organic argan oil as a major ingredient. These oils nourish the hair as well as give it more shine. Like with pre-shampoos, it is important to follow the manufacturer's instructions for the best results.
3. Use a conditioner after every wash.
As much as you try to prevent it, washing your hair will still wash away some of its natural oils. Leaving it like that risks breakage and split ends. The best way to get it back in shape is using a conditioner.
It helps restore oils and moisture to your hair as well as nourish it. After using a conditioner, your hair should feel softer. When you are shopping for a conditioner buy one designed specifically for dry or African American hair.
Recommended Conditioners.
Organic Argan Oil Daily Hair Conditioner – Sulfate free, best conditioner for damaged or dry hair.
Silk18 Conditioner Sulfate-Free Natural Conditioner – This conditioner contains 18 amino acids, two organic oils (jojoba and argan) and keratin. Helps with frizziness, dry hair, curly hair, static reduction, and gently conditions to result in soft, shiny, and easy-to-manage hair.
Shea Moisture Raw Shea Butter Restorative conditioner – extra-moisturizing conditioner that de-tangles and repairs dry, damaged, or over-processed hair.
4. Use a deep conditioner once every week.
There are regular conditioners and deep conditioners. A regular conditioner is lighter and designed for use after washing your hair. It mostly touches the surface of the hair. A deep conditioner sinks deep into the hair, helping to nourish it from the bottom up.
Thus, its heavier and sticks more to the hair and scalp. You should do a deep conditioning treatment once every week though not on the same day you are doing your weekly hair wash.
Recommended Deep Conditioners.
5. Moisturize your hair.
One of the best things you can do to your hair is keep it moisturized. Having adequate moisture encourages fast growth and protects hair from breakage and split ends. Strong healthy hair is essential if you're going to style the best hairstyles for black men and women."
Additionally it keeps the hair looking bright and feeling soft. Before you can even start considering store-bought moisturizes make sure that you are already moisturizing the natural way; drinking enough water.
When it comes to moisturizing from the outside, try to do it every day. This ensures that your hair is always adequately hydrated. Some of the best ingredients for black hair moisturizers include olive oil, coconut oil, grape seed oil, and pure shea butter.
Recommended Moisturizers.
6. Use a hair oil.
While your hair already has its own natural oils, its important to use other oils to promote growth and protect the hair. These oils are especially good at encouraging African American hair to grow faster. When applying hair oil, make sure to massage deeply to ensure that it gets deep inside the hair follicles as well as on the surface of the hair.
Recommended Hair Oil.
PURA D'OR Argan Oil Treatment. It's pure, natural, organic argan oil. Cold pressed and unrefined with no chemicals added. This is as good as it gets.
7. Protect your hair ends.
Every three to four months you should trim your hair. This gets rid of any split ends allowing your hair to continue growing properly without further damage. When trimming, you only need to cut about a 1/2 inch maybe a bit more depending on your hair.
To keep your ends in great condition, use protective hairstyles such as bans and not-so-tight braids. Letting hair fall freely exposes the ends to damage. At night wrap the hair in a silk scarf or sleep on a satin pillow. These little changes help a lot.
Recommended Scarfs.
8. Be sparse with your hair washes.
Sometimes we tend to get too generous with scrubbing out our hair. Washing the hair too frequently strips it of its natural oils, leaving it dry and vulnerable to breakage. If you are washing your hair daily or even every other day, that is too frequent.
Switch to washing it at most twice a week. If you notice your hair breaking easily after washing (especially if you have kinky hair) try washing it once every two weeks.
9. Air Dry your hair.
After washing your hair, the best way to dry it is by rubbing it gently with a towel or letting it air-dry. Try to avoid using a blow dryer as the excess heat will weaken and damage your hair. If for any reason you have to use your blow dryer, use the coolest setting. You can also wrap the hair in a silk scarf and leave it to dry through the night.
Recommended Blow Dryers.
Boosting Growth of Black/African American Hair.
In the first section we have discussed a lot of ways you can keep your hair growing through proper maintenance routines. Now we will talk about how to speed up black hair growth.
1. Coconut Oil Supplements
Coconut oil supplements promote healthier, thicker, and more beautiful hair. This fully organic and certified supplement is one of the best ways to maintain healthy and beautiful hair. Click here for a full review of the supplement.
2. Protein Treatments.
Protein treatments help in speeding up hair growth by nourishing it and making it stronger. Various types of protein treatments are made for different hair types. Protein packs are for regular use with people showing slight hair damage.
Light treatments are ideal for hair with a bit more damage. They often come in form of a deep conditioner. Deep penetrating treatments are best for fairly damaged hair. Reconstructors are used to encourage quick growth in severely damaged hair.
Our Recommended Protein Treatment.
3. Vitamin supplements.
Vitamin supplements supply hair with multiple nutrients to keep it healthy, strong, and growing. Hair products do a good job keeping your hair looking good but the body is the source and creator of your hair. If you supply your body with that it needs it will start to grow strong healthy hair.
Recommended Vitamin Supplements.
Folexin – The #1 hair growth supplement.
Hairfinity Healthy Hair Vitamins promotes hair growth and is without a doubt the best vitamin supplement avaliable . Each of the 60 pills contains minerals, nutrients, biotin and bioactive vitamins which are key for the body to grow long healthy hair. This is something I highly recommend.
Biotin Hair, Skin, and Nails Vitamins. Another great vitamin, this not only helps your hair grow but also benefits your skin and nails.
4. Fish Oil Supplements.
Fish oil supplements, which are often in form of capsules, contain omega-3 fatty acids, which are highly beneficial to hair growth. These supplements are especially good at tackling hair dryness and dullness. Your hair will become shinier, softer, and stronger. They can also help in preventing dandruff.
Recommended Fish Oil.
5. A Healthy Diet.
One of the best ways to keep your hair in good form and to encourage growth is by eating well. If your diet is not so healthy you should take a multivitamin. Multivitamins give your body the fuel it needs to do everyday task and increases your overall health. Eating papaya for hair growth is also recommended.
All of the below vitamins will: Boost your energy, balance your hormones, and lower stress. Help your hair, skin, and nails grow healthier, faster, and stronger. (Before consuming these vitamins, you should have to consult your doctor to know about your estimated energy requirement. Additionally, you can utilize this reliable EER calculator to unfold the question of how to calculate eer.)
What To Avoid To Grow Black Hair Faster.
Below are the things you should avoid doing to maximize your hair growth.
1. Heat treatments.
Any treatment that uses heat to style hair is bad for you. Things like blow dryers and flat irons literally cook your hair, making it extremely weak and easy to break. You hair can still look good without having to use heat on it.
2. Harsh chemicals.
Make sure the hair products you buy are not full of harsh chemicals. These days you can get natural and organic hair products that, though may be a bit more expensive, provide a much better alternative to chemical-ridden products. These chemical products may make your hair look and feel good but over time it destroys your hair.
Be especially careful about hair dyes, chemical relaxers, sulfates-containing products and alcohol-containing products. The extra investment you make on natural products with organic oils is well worth it.
3. Extensions and tight styles.
Styles that rely on tightly wrapping your hair is not good, especially for your hair ends. When stretched or wrapped too tight, hair tends to get weak and can break easily. Also it prevents hair from continuing with its normal growth.
On the other hand, braids and other protective styles actually encourage hair to grow faster by protecting your ends from splitting which means less hair has to be trimmed.
4. Too much stress.
Too much stress has been scientifically proven to be behind hair loss problems such as Telogen effluvium where hair essentially stops growing and begins to fall out and Alopecia areata where hair follicles are attacked by the body's immune system.
Other Information.
Determine your hair type.
To achieve the best results it is important to know your hair type. This will help you in choosing the right products and giving the best care to your hair. There are three general types of African American hair.
Kinky hair – this is the hardest hair type to maintain. The reason for this is that it is weak due to fewer cuticle layers available to protect the hair. Being very fragile, it requires careful handling to prevent breakage or any other kind of damage. Kinky hair tends to have very tight curls and exhibits a lot of shrinkage after a wash.
Curly hair – the curls are looser than in kinky hair and tend to be springy. It is soft and fine making it one of the easiest hair types to style.
Wavy hair – has large curls in waveforms. It tends to be a bit heavy, staying close to the head unlike kinky and curly hair. It falls between kinky and curly hair when it comes to difficulty in styling. Generally easy to maintain.
Note that this is a general classification. Under each type there are several sub types indicating the wide variations that occur in African American hair.
If you read everything laid out in this guide you'll have learned how to grow black hair faster and how to grow African American hair faster. You'll surely see a boost in your African american hair growth and black hair growth but you must be dedicated and consistently stay on top of your hair care to have the best hair possible.
Read our articles on best hair growth products, best heat protectant for natural hair, best oils for natural hair growth, how to straighten natural hair, best clarifying shampoo for natural hair, and best shampoo for natural hair
---
Related Post
Incoming Search Terms:
how to grow african american hair fast.
how to grow african american hair faster.
how to grow african american hair.
hair growth for african americans.
how to make your hair grow faster for black people.
how to grow african hair.
how to get african american hair to grow.
how to grow black hair faster.
how to make african american hair grow faster.
how to make african american hair grow.
black hair growth.
african american hair growth
natural hair products for black hair for growth
hair growth black hair